FÁSES.is er búin að nýta Eurovision vikuna í margt og mikið – m.a. til að spjalla aðeins við FÁSES-meðlimi sem koma hvaðanæva að úr heiminum. Við báðum Bastien Venturi frá Sviss og Dekel Ben Avi frá Ísrael að segja okkur hvaðan Eurovision áhuginn kemur.
Bastien
Believe it or not, but I am so fond of ballads that my Icelandic friends have given me the funny nickname of "Ballöðu-Bastien".
Before I reveal to you the reason why I am such a big fan of lovey-dovey tunes, I wanted to go back to the Eurovision 2008 which took place in Belgrade. That was the very first Eurovision I went to and that is exactly when I had my Eurovision epiphany.  I was born and raised in France and the Eurovision Song Contest in my country of birth, as well as in my adopted country (Switzerland) for that matter, is undoubtedly and regrettably not an event that fills the French (& the Swiss) with enthusiasm.  Moreover, the French TV broadcaster itself seems to take a perverse sadomasochistic pleasure to persist on presenting mediocre acts to Europe which sadly contributes to that profound television disaffection from the French audience.  I am actually ashamed to admit it but I was part of that majority of people who had absolutely no interest whatsoever in this yet legendary and unique song contest. I was undeniably also part of those very same people who, every year, take a malicious ritual pleasure in mocking that TV show that they considered to be so corny and rigged when they happen to come across it on TV while zapping through the channels… or so most of them say…
Back in the 90's I had another sudden moment of truth which has changed my musical perception forever.  Besides, who could have imagined that this revelation would directly be related to Eurovision?  Must have been meant to be… Indeed, in 1995 a female artist from Quebec (Canada) received a huge success in France with the release of her album "D'eux" ("From Them" in English) that is still currently the best-selling album of all time in the country of Molière, with over 4.4 million copies sold.  7 years before, this very same singer had won in Dublin (Ireland) the 33rd Eurovision Song Contest and brought the coveted trophee to Switzerland. This artist is none other than Céline Dion, and in spite of myself, I have fallen in love with her extraordinary voice. Thus, she became my very first Eurovision idol ever.  Therefore, Céline Dion is certainly responsible for that passion I nowadays have for ballads. I think I unconsciously always try to spot a little bit of Céline Dion's vocal sounds every time I hear a singer with a powerful voice.  At the end, the singer getting the closest to her singing skills wins my heart. That was the case with Portugal in 2008 (Vânia Fernandes), Iceland in 2009 (Yohanna), Israel in 2010 (Harel Skaat), Austria in 2011 (Nadine Beiler), Georgia in 2013 (Nodi Tatishvili and Sophie Gelovani), Austria last year (Conchita Wurst) and without forgetting my favorite of all Spain in 2012 (Pastora Soler). Guess who is next? 😉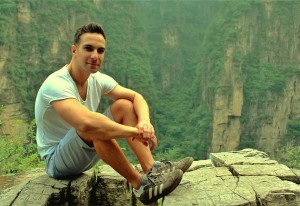 Dekel
Many, many years ago, when I was a little child, Israel was in love with Eurovision, and Eurovision actually loved it back. Back in the days, only one channel was broadcasting on Israeli television and the Eurovision Song Contest was a huge event, spoken of by all. All major artists in the country wanted to take part, and as Israel was led by a more liberal government than the right wing one it has in recent years, the political situation has also allowed Israel to win its share of good popularity in the contest. Times have changed. Israeli television now has over 300 channels. The music industry looks down on Eurovision as an inferior pop contest, and the artists chosen to represent the country are often just anonymous the previous day. The political situation together with songs which often do not appeal to many, have brought many disappointments in recent years, and thus a great decline in the show's popularity. From one of the major music events of the year, the Eurovision Song Contest in Israel nowadays finds its popularity mostly in gay parties, gay bars, and among Eurovision fanatics. And well, I guess you can say I am one. Despite the fact it is often looked down upon, I stay a true to my childhood love. Ever since I first watched it in 1991, when I was 10 years old, Eurovision songs have been a fun soundtrack to my life. The kitsch pop, and the window to other cultures and their own kitsch pop, have made Eurovision my guilty pleasure, up until today.